2014 Riverfront Show Award Winners
The "Riverfront Camaro Show" is open to all years 1967-2014 Camaros (as well as 1967-2002 Firebirds) including stock, modified, pro street, race cars and even daily drivers. Awards are given out to the Top-25 Camaros & Firebirds (as determined by our judges) along with several "Best of Show", "Sponsor's Pick" and other specialty awards.
Prestige Invitational
This year not only were the cars of super high quality, they were all really rare and unique with great stories, as you'll read below.
| | | | |
| --- | --- | --- | --- |
| | | | |
| | 3rd Place Winner | 2nd Place Winner | 1st Place Winner |
Select an image above for more information on the owner(s) and their cars
In our 10th year of hosting the Riverfront Camaro Show we introduced the "Prestige Invitational". This event was geared towards 1st, 2nd and 3rd generation Camaros and Firebirds that were kept to factory original specifications and in a high level condition. Individuals that wanted to participate in this event had to submit detailed pictures and information about their cars, which were reviewed by the Event Committee. Out of the overwhelming response of folks with amazing cars looking to participate, only a handful were invited. Judging for this class was based on a 300-point system that focused on originality, factory correctness and overall presentation. The top three winners are featured in Chevy Classics Magazine with a 2-page article for each, and the 1st place winner is featured on the cover.
(Click Cover for Show Coverage)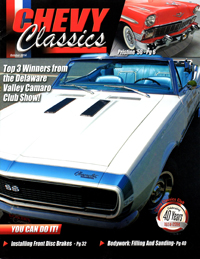 I would like give a special thank you to Colin Date of Ecklers who supported us getting the coverage for our winners in Chevy Classics Magazine. Initially we had asked for only one spot for the winner, and he said "why not just put the top three in and give the winner the cover?" We said great! In addition he said, "I'll also fly in to the show and take the pictures as well." We at DVCC were all blown away and in disbelief by his enthusiasm and support. This just represents the outstanding level of commitment that Ecklers has demonstrated for our show year after year, with this one being no exception.
Thanks Again Colin and Ecklers!