DVCC History
The Delaware Valley Camaro Club is a nationally recognized club and a member of the American Camaro Association, the Worldwide Camaro Club and the Association of Chevrolet Enthusiasts. Our membership is comprised mainly of residents from the eastern-Pennsylvania, southern-New Jersey, Delaware and northern-Maryland areas. We have all types of Camaros & Firebirds, ranging from original stock production to heavily modified, and daily drivers to top-of-the-line show cars. We have a very active club and participate in all types of car shows and cruises year round. Our club organizes an annual "Riverfront Camaro Show" which is held each year on the first Sunday in June at the Wilmington riverfront. Typically, over 120 cars attend this F-body celebration, with the proceeds from the Riverfront Camaro Show benefiting local and national charities.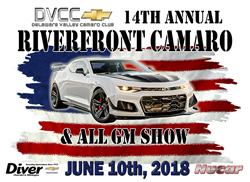 This year we had another bout with rain, and had to cancel our scheduled first Sunday in June date.  The weather for the 3rd of June was too unpredictable so we chose to suspend the show to the following Sunday, only to have another cloudy and ominous looking day.  The show must go on, so we all showed up to see how many people would bring their cars out, knowing they could be risking all the detailing they had performed on their beautiful rides.

We actually had 79 cars show up for the show.  That was about half the participants we would have normally expected, especially since this was another "All GM" show.  Fortunately we were able to get through most of the show with only a slight drizzle, which dried quickly and left my car without water spots.  Knowing the forecast was calling for rain by two o'clock, we hurried to speed up the process and give out the awards an hour earlier than normal. The show ended without any more rain, but as the cars departed the sky let loose... slowly at first, but we got pretty soaked loading up Bill's trailer.  Bill, who always performs as our DJ and "Master of Ceremony", is one selfless member who deserves more praise for his contributions to the DVCC.  I won't start listing names, but we have a core group of members who contribute above and beyond the call of duty to the Club.  We present this Annual Riverfront Show not only to honor the cars, many being works of art, but also for the charities we generously support.  That is our mission and dedication.  I love this club and the great people I get to associate, appreciate and work with.

If you feel the same way about these cars and the people who restore, maintain and drive Camaros and Firebirds, please join or support the Delaware Valley Camaro Club.  We would love to have you.   
Pictures from the Riverfront shows are on the Riverfront Show Page.
For additional information, email our club at dvcccarshow@gmail.com,
or call Allison Stine at 302-381-5565